Governors
Chair of Governor's Welcome
Welcome to the Alveley Primary School website 2022.
This spring term has seen a lifting of the remaining mandatory restrictions on schools imposed during the coronavirus pandemic and what we all hope will be an uninterrupted return to face to face education and a more normal classroom experience for our pupils. Barring any major unforeseen events there will be a resumption of statutory tests at the end of Key Stage 2 and these are scheduled to take place in May this year.
I continue to be impressed by the commitment of teachers, teaching assistants and support staff across the school who are working so hard to ensure that not only are our year 6 children well prepared for these tests but that our pupils throughout the school are making the kind of accelerated learning progress which will see them back on track, with the skills and knowledge necessary to make the most of their educational future.
As governors we regularly monitor the effectiveness of this comprehensive 'catch up' programme but we also see the excellent pastoral support focussed on the social, emotional and mental wellbeing of the pupils and in particular of our most vulnerable children and families. At the heart of this is our school ethos which values all pupils as individuals, encourages a strong sense of belonging to the school community, strengthens their personal development and builds their resilience.
This website provides a wide range of statutory and more general information about the school and also gives an insight into the kind of activities through which our pupils learn and progress during the year. We hope you will enjoy looking through it and find it useful and informative.
Geoff Baker
Chair of Governors
The Local Governing Body at Alveley is a dedicated and knowledgeable group of people who are very familiar with the operation of the school and have a real commitment to the quality of education offered to our children. Their support and enthusiasm enhances and strengthens the systems and policies we follow as we continue to move forward.
The school governing body is made up of Trust appointed governors, staff governors and parent governors.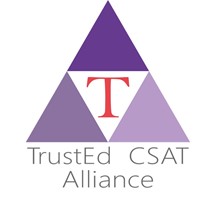 Trust Board and Members
Board of Trustees / Directors 
Chris Mathews (Chair)
Vince Pizzoni (Vice Chair)
Mark Anderson (Diocese Appointed)
Geoff Baker
Allen Crawford Thomas
Martyn Cribb
Nick Hooper
Rose Patey (Diocese Appointed)
Willie Strachan
Jane Woodall
Marie Claire Wigley
Members of TrustEd CSAT Alliance
Bill Dowell
Sally Holgate
Colin Perry
Judy Mondon (Diocese Appointed)
David Ravenscroft
Alveley Local Governing Body
Geoff Baker (Board Appointed Governor and Chair)
Sarah Godden (Executive Headteacher)
Penny Jenkins (Board Appointed Governor)
Paul O'Malley (Head of School)
Dee Wilson  (Parent Governor)
Maxine Jones (Parent Governor)
Catherine Coleman (Staff Governor)
Chris Smith  ( Board Appointed Governor)
Stephen Wiggan ( Board Appointed Governor)
Documentation